FAQs about Aged Care Courses
1) What aged care courses do we offer?
At Advance College, we currently offer CHC33021 Certificate III in Individual Support (Ageing) and CHC43015 – Certificate IV in Ageing Support.
The CHC33021 Certificate III in Individual Support (Ageing) course provides the required training to work in a community and residential workplace, offering support to people with disabilities. The program provides students with all the skills they need to support individuals with disabilities in their day-to-day lives. The skills and knowledge you learn in this course are essential.
The CHC43015 – Certificate IV in Ageing Support is a nationally recognized qualification that identifies the role of support workers undertaking specialized tasks and functions in aged services. They work in residential, hospital, or community-based environments and must take responsibility for their work within defined organization guidelines.
2) What will I learn from aged care courses?
In aged care training, one learns to understand the care process's role and the expectations of aged care workers who care for the aged ones. Additionally, these courses prepare for the more complex care situations, which are becoming more frequent, such as dementia or a severe injury.
Besides, these courses introduce students to potential issues when caring for an aged person. These situations may include nutrition, behavioral issues, personal care, communication, and making sure that they are comfortable and not in pain.
3) What to expect from aged care courses?
Over the past few decades, as the population has become increasingly aged, the need for aged care professionals has increased exponentially. Growth in the aged population has brought about an increasing need for aged care workers to fulfill the rising demand for aged care services.
The field of aged care services is a broad one, and it can encompass several different occupations that are incredibly diverse and fulfilling in their way.
The aged care services include helping older people live independent lives in their homes with the assistance of family, friends, and neighbors and providing care for older people who require residential care.
After completing the aged care courses, the aged care worker can opt to work at the frontline to support the elderly or work in the management behind the scenes. Listed are some of the work areas the carer can choose to work in:
Team Leader
Medication Nurse
Case Officer
Assistant in Nursing
Personal Care Assistant
In-home respite giver
Community care worker
Community support worker
Disability support worker
Residential Care Worker
Individual Support Worker
Community Support Service
Aged care Nurse
Personal Care Worker
Care Team Leader
Care Support Worker
Nevertheless, these are not the only areas where one can work.
4) How long does it take to complete the Aged Care course?
It is a one-year course in which the duration depends on how the course is delivered and the students' respective experiences.
5) What is the cost of the Aged Care Course?
The tuition fee at Advance College for Certificate III in Individual Support in Ageing is AUD 1600.00 (Sydney-based students) and AUD 1800.00 (distance learning). Similarly, the cost for  Certificate IV in Ageing Support for students inside Sydney is AUD 1600.00 whereas for Distance Learning (students outside Sydney) the fee is AUD 1900.00.
6) What is the difference between certificate three and Certificate 4 in aged care?
There are different aged care courses available through a wide range of aged care courses in Sydney. However, the ideal qualification in aged care course that students often ask us about is certificate 3 in aged care and certificate 4 in aged care.
Both courses are part of the aged care qualification and require students to complete various aged care placements. Certificate 3 is the entry-level qualification for aged care and requires a practical skills assessment. Certificate 4 is a more advanced qualification for people who wish to work or supervise in aged care homes.
They are both essential qualifications for those who work in aged care. However, certificate 3 is more relevant to aged care workers employed as team leaders in most cases. In contrast, certificate 4 is vital to aged care workers in charge of an entire department.
The most crucial difference between certificate III and Certificate IV in aged care is that certificate IV is the highest qualification an individual can get in aged care. Certificate III in aged care qualification is also known as a special care assistant certificate, whereas certificate IV in aged care qualification is known as a disability support worker certificate.
7) What are the benefits of getting an aged care qualification?
The overall educational attainment of the care and support workforce is relatively high. However, there is considerable variation in levels of attainment. Over 80% of the care and support workforce have attained a certificate III/IV qualification or higher (in any field of education) compared with 66% in the overall labour market. Nine of the 15 in-scope occupations require a bachelor's degree or higher as their indicative entry qualification for employment, and 4 of these occupations are accredited and regulated by AHPRA.
Education and training pathways:
The number of people entering the higher education pipeline has continued to grow in the last two decades and is represented mainly by women. Enrolments in vocational and educational training (VET) training pathways that lead to care and support occupations have shown modest growth, increasing from almost 275,000 enrolments in 2015 to nearly 293,000 in 2019.
There are no minimum qualifications or professional registration requirements for Aged and disabled carers and Nursing support and personal care workers. However, Certificate III in Individual Support is frequently held by workers in these occupations. A recommendation of the Aged Care Royal Commission included introducing mandatory qualifications for the care and support workforce.
Enrolments in care and support related to VET qualifications, domestic students, males, by age group, 2015 to 2019.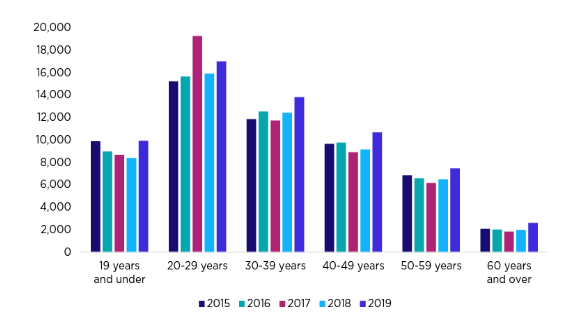 The number of enrolments for Certificate III in Individual Support has grown from over 35,000 in 2016 to almost 80,000 in 2019. Consequently, the number of completions each year has also grown from over 11,000 in 2016 to over 31,000 in 2019.
A 2017 survey of care and support employers found that employee attributes were very important to aged care and disability providers. This was particularly the case for disability providers, with employers ranking personal qualities as more important than both qualifications and experience.137 In line with this, some providers consulted through the Study stated they placed a greater emphasis on employee attributes over qualifications when recruiting. Analysis of tools used by employers for recruitment screening, including those used for the Australian Government's Launch into Work Program, outlines a range of attributes and values. These include cultural sensitivity and awareness, dependability, attention to detail, willingness to learn new things and communication. Launch into Work commenced as a pilot to test whether values and attributes-based recruitment could lead to better retention rates. The pilot was subsequently expanded to a small program following positive pilot results. The NDIS Workforce Capability Framework articulates expectations about the attitudes, skills and knowledge of all workers providing services to participants who are funded under the NDIS. The framework translates the NDIS principles, Practice Standards and Code of Conduct into observable behaviours that providers and workers should demonstrate when delivering services to people with disability. Core capabilities identified in the framework include communicating effectively, building trusting relationships, and showing self-awareness.
The demand for care and support is met by a complex system. Many organisations (government and non-government), businesses and people contribute to the provision of care and support across a wide range of roles and functions in a complex environment.
Care and support are also delivered alongside other services such as primary health, community health, mental health, community and social services. These services traverse complicated jurisdictional boundaries, as well as intra and intergovernmental agreements.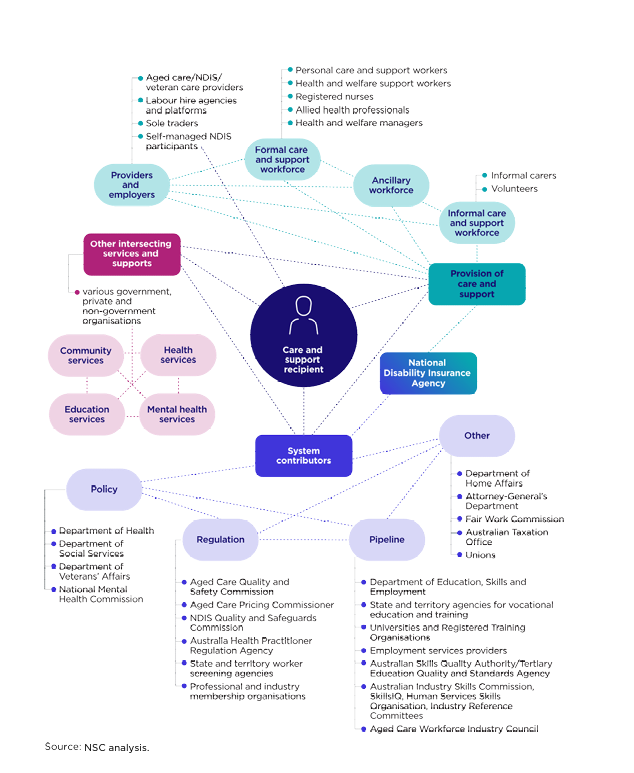 8) Can I study aged care online?
With the increasing popularity of online learning courses, aged care courses are also offered online. However, at Advance College, we currently provide blended and Practical/Simulation study modes for both courses, i.e., CHC33021 Certificate III in Individual Support (Ageing) and CHC43015-Certificate IV in Ageing Support, respectively.
9) Can I study at Advance College if I hold a primary student visa in Australia?
Being a domestic RTO, Advance College does not enrol the students holding the primary international student visa.